The Flattered ethos embraces the Scandinavian philosophy of living. Through considered design and uncompromising quality, we aim to forge a new luxury for the smart, independent, and conscious woman, with a genuine intention to design products that stand the test of time and contribute to changing habits around unnecessary consumption.
Committed to building a responsible, dynamic and honest brand, we strive to be a force of positive change in our industry — by making products that last longer, honoring the craftsmanship behind them and working with materials and processes proven to be better for the environment.
The name Flattered derives from the brand's original signature collection of ballet flats, first launched in 2013. All Flattered products are designed in the heart of Stockholm and handmade by our factories in Italy, Portugal, and Spain.
Committed to building a responsible, dynamic and honest brand, we strive to be a force of positive change in our industry
Our Story

The company started as a passion project of real-life couple Hanna and Gustav. In Scandinavia, it is customary to take your shoes off at the door to avoid bringing snow and mud into the house, but Hanna noticed that while sleek, fashionable indoor slippers had long existed for men, she couldn't easily find the same for women. She dreamed of something you could wear while relaxing alone and while entertaining guests — or even take with you to a dinner party! So —sustained by love, commitment, and a single-minded goal to cater to the needs of the smart, conscious, independent woman, they set out to create Flattered.

Both founders had regular day jobs at the time, so they worked late nights and weekends to actualise their vision. After a while, They found a small family-owned factory outside Porto in Portugal that understood precisely what they were looking for. Finally, after months of hard work, they perfected the indoor ballet flat that has since become our signature —with its perfectly almond-shaped toe and soft woollen insole.
As time has passed, our growing team has grown ever more convinced that comfort and confidence go hand in hand. When a woman feels comfortable in her own skin, she radiates confidence. The interplay between comfort and confidence is why Flattered believes creating products that enhance both is essential. As we have expanded our offering, it has developed into the core principle of our design process. 
And so, the small indoor ballerina shoe company from Scandinavia transformed into a full-range footwear and bag brand known for its commitment to creating products that are not just beautiful but also comfortable, chic and empowering for women.  A brand that continues to inspire and empower women to be their best selves wherever they go.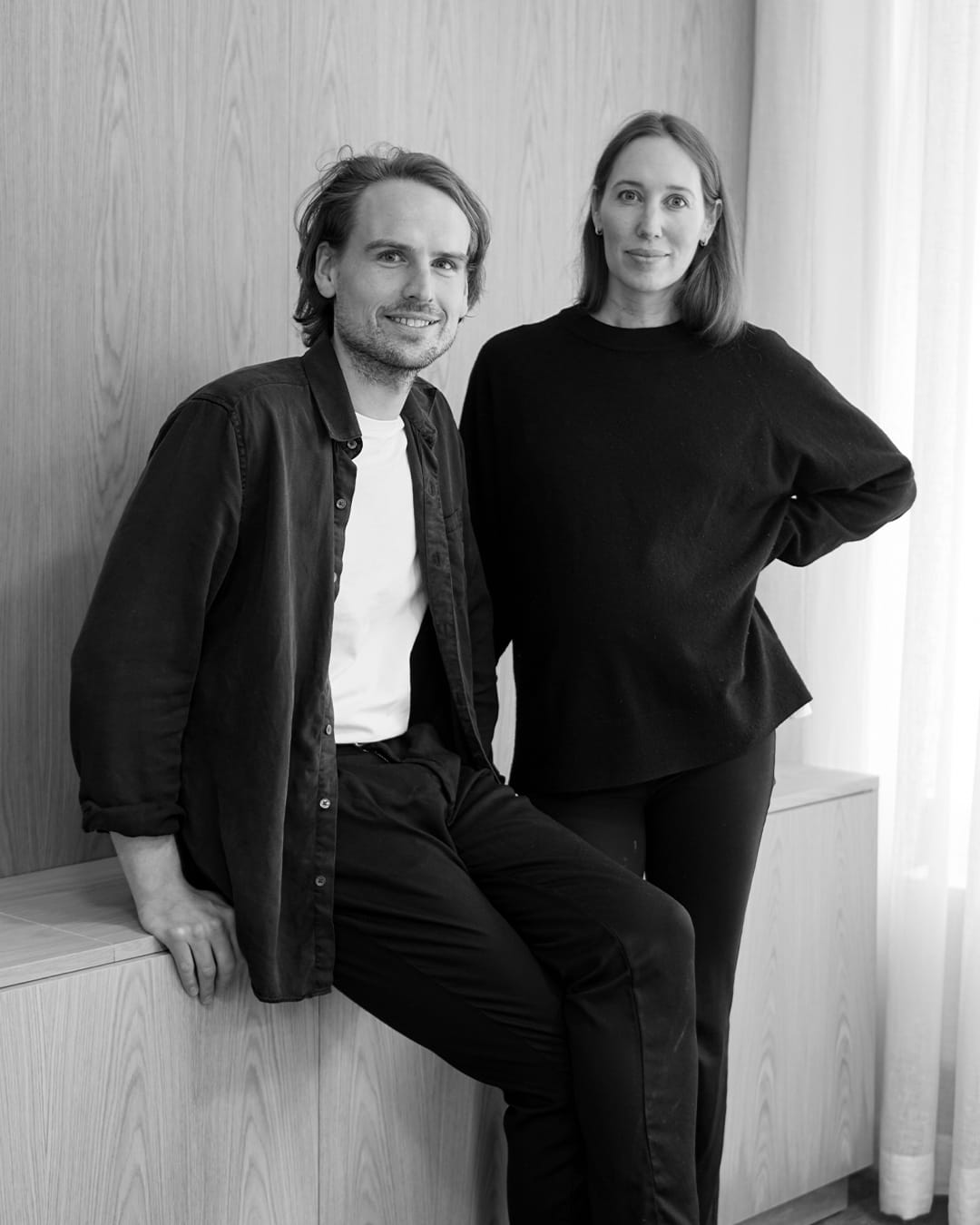 The people behind
Gustav and Hanna are the real-life couple behind Flattered. Hanna had been looking for the perfect ballet flat for the longest time, until she finally decided to create one herself. They both thought it would be a good idea to start with an indoor shoe.
"At the time, indoor shoes were being made mainly for men," says Hanna. "We saw that as a missed opportunity."
Says Gustav, "While our long-term goal has always been to offer a full-fledged range of footwear, the indoor shoe was our opening shot, and has since become a well-loved signature."
"At the time, indoor shoes were being made mainly for men," says Hanna.
"We saw that as a missed opportunity."
What was most important to you when you started Flattered?

That we deliver an experience that feels like something special — "flattering" to the foot and to the eye. The design language we envisioned was timeless — clean-cut, sustainable styles that last for a long time. It was important to us that wearing a pair of Flattered shoes — even with "ordinary" clothes— would make you feel well dressed.

What is it like to run a company together and be a couple at the same time?

As fun as it is challenging! It's great to be able to share our successes of course because we both know how much hard work went into them. But it's also nice to have someone to share the inevitable setbacks with. The most difficult thing is to clearly distinguish between work and leisure — we try to switch off in the evenings as far as possible. It's important to look at not just the company in the long term, but also our relationship.

What are you most proud of about Flattered?

That we have succeeded in creating a modern brand in an otherwise quite traditional industry. To us, modern doesn't just refer to design sensibility. It's about quality products manufactured fairly and offered at an "honest" price to the consumer. All our products are handmade in Europe, with very high standards in place, but their price point makes them affordable to more than just a niche luxury segment. This seems to be appreciated by our customers all around the world, and we're happy for the chance to change the footwear industry for the better.

What's the top priority for Flattered going forward?

That we drive development toward a smarter offer — more customer-friendly, and more sustainable. On one end, we are constantly evolving how we communicate and interact with customers, in a way that reflects the current landscape. On the other, we are doing the best we can to minimize our impact on the environment. It is very important that we do both. Our industry is part of the problem, so we see it as our responsibility to actively contribute to solving it.




"We have succeeded in creating a modern

brand in an otherwise quite traditional industry"

Anything else you forgot to mention?

Yes, we had never worked with shoes before. It's been a learning experience!